Have you noticed that the largest quantity of any one local food in the Locavorious frozen CSA share is blueberries? Why? Because blueberries are a quintessential local food of Michigan, they are delicious and nutritious, popular with kids of all ages, and they freeze really really well.
Michigan is the number one state in highbush (cultivated) blueberry production with growers typically producing over 100 million pounds of blueberries every year.  Highbush blueberries belong to the same family of plants as cranberries, rhododendrons, and azaleas, and like similar soil and environmental conditions in which to grow. There are more than 20 different varieties of highbush blueberries grown in Michigan. Over the years, Locavorious has honed in on the tastiest berries that freeze well, primarily freezing Bluecrop berries, and sometimes getting Blu-ray or Jerseys.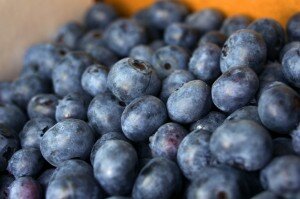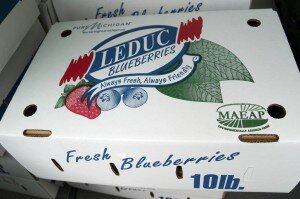 At one of our favorite farms, Leduc Blueberries, Rena found the Berry Lovers Cookbook, from which many of our CSA recipe sheet recipes come from.  Here is one lovely dessert that works equally well with fresh or frozen berries:  blueberry lemon cheesecake bars adapted from the Berry Lovers Cookbook. This time of the year, when the harvest is in full swing, we recommend increasing the amount of blueberries, even doubling it!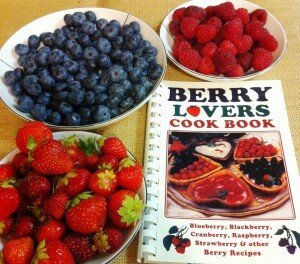 1 heaping cup slightly smashed blueberries – can be fresh or frozen, plus extra blueberries for topping
¼ cup orange juice
2 T sugar
2 t cornstarch
1 ¼ cups whole wheat flour
¾ cup rolled oats
¾ cup brown sugar
½ cup chopped nuts – like pecans or walnuts
½ cup butter
8 oz cream cheese, softened or works well with goat cheese for something slightly different!
2 eggs
½ cup granulated sugar
2 T fresh lemon juice
1 t lemon zest
Preheat oven to 350 degrees. Lightly grease the bottom of a 13" x 9" pan. In a small saucepan, combine smashed blueberries, orange juice, 2 T sugar and cornstarch; stir until cornstarch is dissolved. Cook over medium heat, stirring constantly until thick and bubbly (about 5 minutes). Set aside to cool slightly.  In a large bowl, combine flour, oats, brown sugar and nuts. Mix well. Using a pastry blender or fork, cut in butter until mixture resembles coarse crumbs. Reserve 1 cup of crumb mixture for topping. Press remaining crumb mixture firmly in bottom of greased pan. Bake for 10 minutes. In a medium bowl, blend together cream cheese, eggs, ½ cup sugar, lemon juice and lemon zest with electric mixer on medium speed until well-blended; pour into baked crust. Spoon blueberry filling over cream cheese layer, swirl with a knife to blend. Sprinkle additional fresh blueberries over the top. Sprinkle reserved crumb mixture over the top. Bake 20 to 25 minutes until lightly browned.  Cool completely before serving; can serve slightly chilled in the summer for a refreshing lemony-blueberry-y treat.